RESET INSTRUCTOR TRAINING
BECOME A TRAINED RESET INSTRUCTOR!
Interested in learning how to teach RESET? The RESET Instructor Training is a great option for mental performance consultants, coaches, psychologists, counselors, and others that want to lead a team or organization through the RESET program. The 2-day live RESET Instructor Training will be held via Zoom and will be offered four times a year.
Now accepting applications for the Winter '24 Cohort!
*Limited seats available
To apply or book a discovery call, please click the buttons below.
I'M IN!
Read all the information on this webpage
Register for the

 

Online RESET Course
Apply to the RESET Instructor Training
Get accepted

 😀

Receive a RESET Workbook
Participate in the 2-day live instructor training via Zoom
Gain lifetime access to the RESET Instructor Portal 
Participate in our online RESET community
Attend four coaching calls with the Fail Better Training Team 
Be added to our website as a "Trained RESET Instructor"
Note. We're working on getting approval for CEUs through AASP!
APPLY NOW!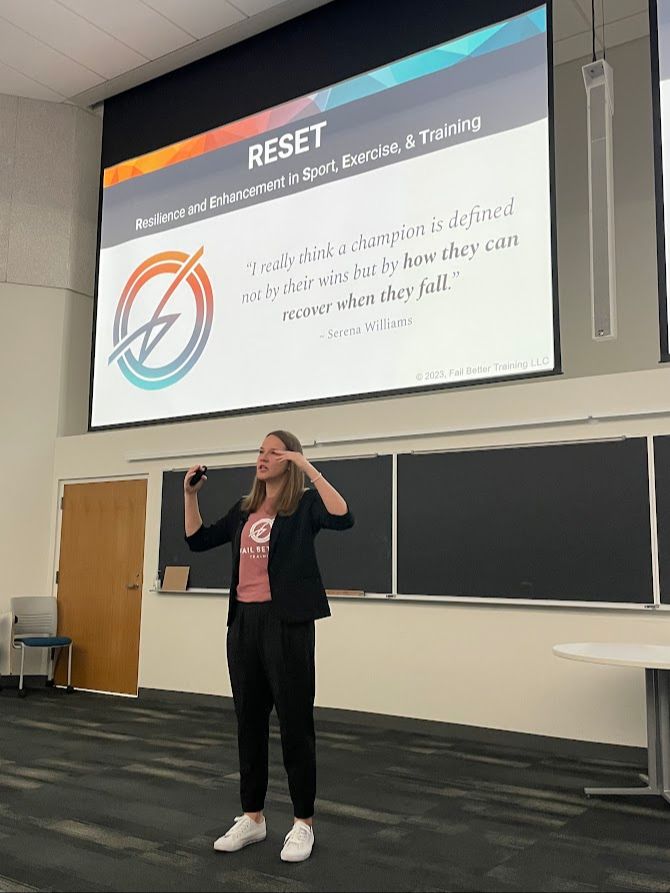 Still have questions?
Click the button below to book a call with Ashley! 
BOOK A CALL
WHAT TO EXPECT IN THE 2-DAY LIVE TRAINING
Learn the background and rationale for RESET
Connect with like-minded individuals interested in teaching RESET
Practice teaching core concepts and RESET exercises
Learn new activities that aren't included in the RESET Workbook or Online RESET Course
Discuss best practices for delivering RESET with various populations
Outline details for becoming a Trained RESET Instructor
Explore the Instructor Portal and online RESET community
LET'S DO THIS!
WHAT'S IN THE INSTRUCTOR PORTAL?
RESET protocol
Slide decks
Instructional videos
Additional activities
Workbook discounts
Swag 
Promotional materials
Online community
Coaching calls
And more!
SIGN ME UP!
Note. You will gain access to the Instructor Portal on the first day of the live training.
Live Training Date: January 4 & 5 (Thursday & Friday) from 9am - 12pm MT / 11am - 2pm ET on both days.
Investment: $1495 (payment plans available)
Early Bird Discount - Apply by November 3: $1295 (payment plans available)
Note. Registering for the Online RESET Course is required before applying to the RESET Instructor Training.
Registration open until December 15. All payments must be completed by December 31.
Limited to 12 participants
APPLY NOW!
FREQUENTLY ASKED QUESTIONS
Do I need to register for the Online RESET Course before applying to the RESET Instructor Training?
Is the RESET Instructor Training just for mental performance coaches?
What happens after I apply?
How long will registration stay open?
What if something happens and I am no longer able to attend the 2-day live instructor training?
What is the rationale for requiring four coaching calls in order to become a "Trained RESET Instructor"?
Do you offer any financial assistance?
Sign up to join our mailing list and be the first to receive updates about our services, free resources, opportunities to get involved, and more!
You can also follow us on social media by clicking the icons below!